Buy a gift voucher as a perfect present for a loved one.
Recording Sessions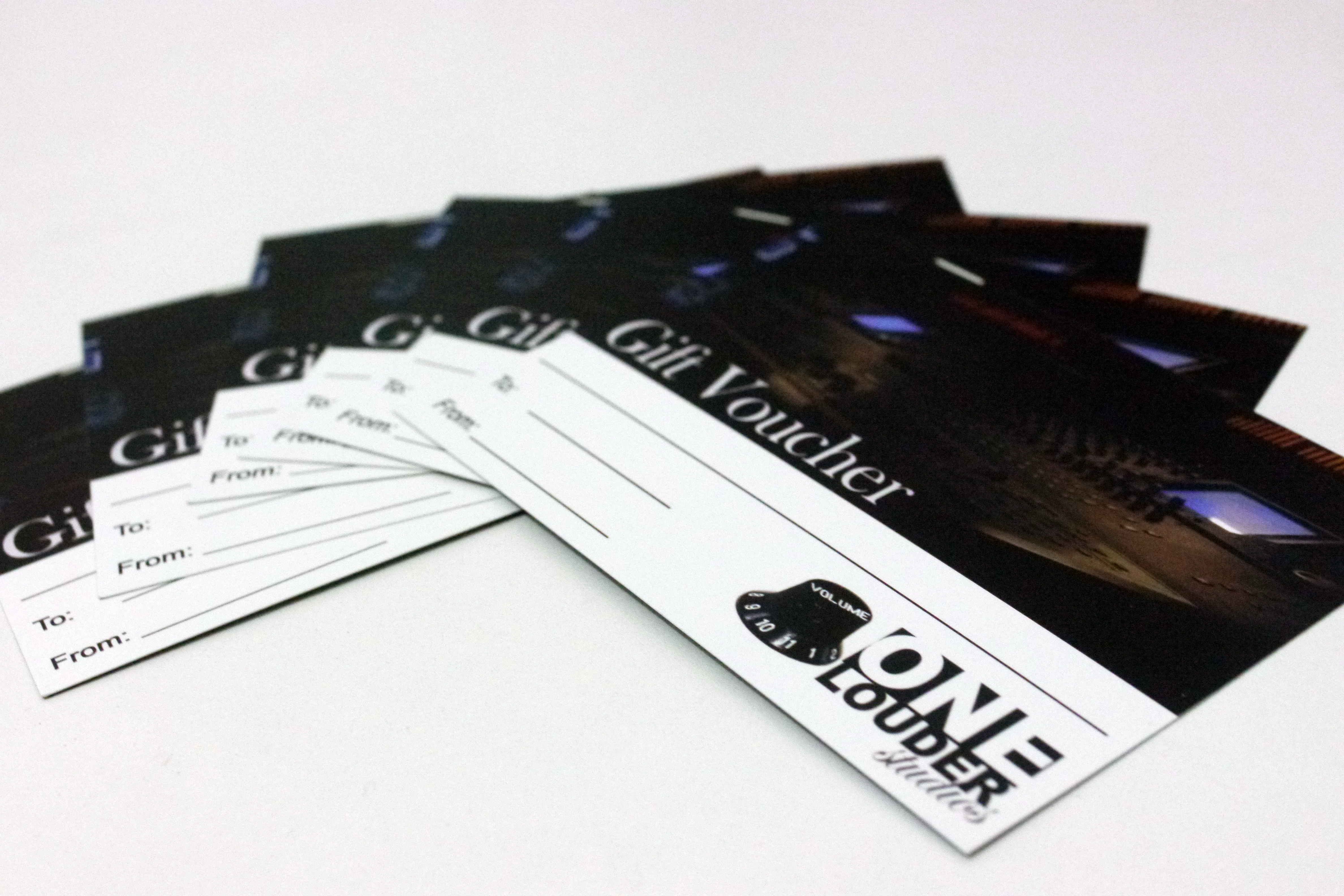 Gift Voucher - Studio Recording Session with Engineer
A gift voucher for a recording session in our studio with one of our highly skilled engineers.
Just choose the length of session you require. The gift recipient can choose to pay for more time if needed.
The gift card recipient can get in touch with us to arrange the best time to come in and record.
2 hours is typically enough time to record vocals for 1 or 2 songs when using a prerecorded backing track. We can help find a suitable backing track for most popular songs. Whatever the singers experience level we have tools and techniques to get them sounding their best. We can edit, mix and master your songs to produce recording to a professional standard.
4 hour sessions are usually enough to record a song for a full band "live". This is where the band sets up as if playing a show and we place microphones to capture each instrument. After recording several takes we can choose the best version and do some limited editing (though not as much as is possible when recording each instrument separately) Vocals can be recorded and overdubbed afterwards in our vocal booth. We will then work to mix and master the song to a high standard.
1 day and longer sessions are suitable for recording a whole band instrument by instrument. This is the method most professionally produced music uses (Though we sometimes prefer to record live or use a hybrid approach where appropriate for the band). We would typically start with drums, taking time to select the most suitable equipment and get them sounding great in our fantastic live room. We would place microphones all around the drum kit to capture each sound as well as the sound of the drums in the room. We would then record several takes of the song whilst other instruments play into the drummers headphones as "guides" to assist them. A click track can be used to help the drummer keep time and assist editing later. The best parts of each drum take can be edited together. Next we would layer on bass, guitars and other instruments one by one using our selection of professional instruments and amplifiers or the artists own equipment. Multiple takes of each instrument can be edited together to get the optimum performance of each part. Once the music is in place we can record vocals and backing vocals in our vocal booth through a high quality microphone. When recording is complete we can mix and master each instrument in to a complete song, taking account of the band's sonic preferences.
We would recommend 1 to 2 days per song to get the best results.
A 1 week session (5 8 hour sessions) will typically allow a band to record a whole EP and a 2 or 3 week session (10 or 15 8 hour sessions) can see a band produce a full length album.
We can work around the artist's schedule and multi day sessions don't have to be used on consecutive days. We are open for bookings 7 days a week.
Whilst we are not a CD duplication house we can make several copies of the songs on CD during the sessions or put it on our web server for easy downloading.
All timings are estimates and can vary based on factors such as song length, complexity, instrumentation, the amount of takes, edits and mix changes, the artist's working style.
Sessions include 1 engineer. If the artist has more complex requirements (such as video shoots, extra engineers or session musicians) we will need to charge a different rate. Please Contact Us to discuss your needs.
Vouchers are valid for 18 months after purchase.