The big room costs £13/hour. It measures a cavernous 8.9m x 7.8m (29ft x 26ft) and is perfect for very large bands, as well as choirs, theatre groups, filmmakers and photographers.
It features a powerful, easy to use Yamaha Stagepas 500 PA system with 2 Shure SM58 microphones and stands. A 3.5mm stereo cable is provided for connecting your phone/ipod/laptop.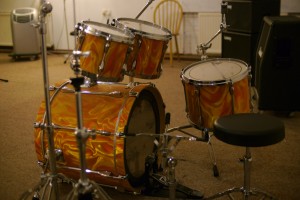 The room cost includes rental of a Tama Superstar drum kit with a kick drum (22″), 3 toms (10″, 12″ and 14″), seat, 3 cymbal stands, snare stand, single kick pedal, hi-hat stand and clutch.
The room is air conditioned, has an 18″ fan, a music stand and includes a whiteboard for set lists, song notes and showing off your art skills! There's also 2 sofas.